What has become clear over the last months is that the BNR34 Skyline GT-R is no longer a 'future' classic, for a mass manufactured vehicle it has ALREADY achieved the status of 'classic' long before anyone would have expected. For low mileage, good condition examples prices have skyrocketed in recent months. Even well kept high mileage examples are fetching stupid money.
This Pearl white 2002 model Nissan Skyline GT-R M-Spec NUR is currently (as at June 2016) for sale at a prestige motor dealership in the UK. It is advertised as having travelled just 61,000 miles (98,000 kms):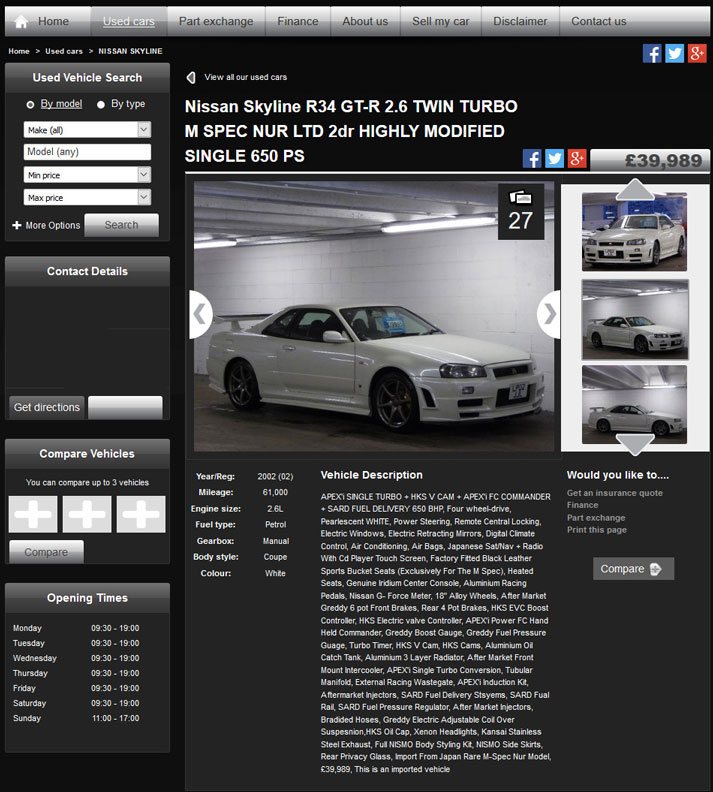 A 2002 M-Spec NUR is a rare bird indeed, just how rare? USS, Japan's largest operator of auto auctions has consigned roughly 3 million vehicles within the last 18 months. Of those, we can tell you that only 2 fit the description of a white, 2002 M-Spec NUR GT-R.
To ensure we could match this car's advertisement to an auction sheet we needed to use some of the tools provided by UK government agency, DVLA (Driving and Vehicle Licensing Agency). Unfortunately VIN's and chassis numbers are not often advertised in the UK, and are also not easy to look up even if you have the vehicle registration. DVLA will allow you to provide the corresponding VIN (chasssis no) for a registration plate and they will confirm whether or not it matches their official record. Since dealers seem to go shy when we ask for VIN numbers, we needed to take a guess. Fortunately in this case, since there were only two realistic possibilities fitting the description, it was not difficult. The vehicle with license plate LP02JJL (as displayed in the advert) has a matching chassis number of BNR34403684.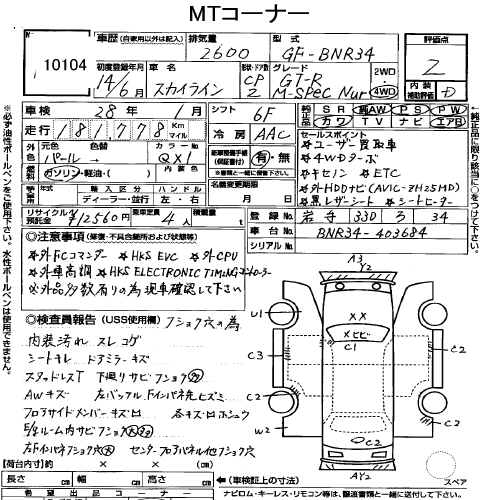 Per our auction sheet check service, we decided to see what the odometer said when the vehicle sold in Japan. The vehicle went to USS Tokyo on 19th March, 2015. At this time it had 181,778 kms on the odometer, and yet 7 months later in October 2015 when it went for an MOT, the vehicle's odometer reading was recorded as 98,035 kms. To make matters worse, the car received a 2D grading - indicating the condition of the car is very poor. To help you better understand why, we provide a full translation of auction sheet notes with our service, here are main highlights with regard to this car:
Bonnet replaced
Studless tires fitted (indicating it has been used in a snowy area)
Rust and corrosion noted underneath
Left side front panel strained (indicating possible repair)
Floor side member scratched, dented
Rust and corrosion noted in the engine bay
Corrosion noted in the left front inner guard and center floor panel
To show you what this looks like in the form of photos (which we also provide with our auction sheet service for cars sold in recent years), see below:
YIKES!!! We'd advise caution when poking this car with your finger, let alone trying to drive it! If you're looking to invest in a Japanese imported classic outside of Japan, it'll be worth your while to order a check with us prior to handing over your hard earned money.