So you're ready to buy your dream JDM sports car. Should you import yourself? Should you buy from a dealer/importer? Should you buy a previously imported example from a private seller? There are so many options! You've taken a look at what's out there and you spot a low mileage example which appears clean and looks like it may tick all the right boxes! The seller even claims that the car has "genuine kilometres" so you're safe to purchase - right? What does it mean when a seller claims a car has "genuine kilometres"? As it turns out - not much.
Here is one such real life example (Feb 2017) of a seller, in this case a licensed dealer, selling a "genuine kilometres" car:

Note in the above that the dealer has given a little bit of history on the car since it arrived in Australia, "Last owner purchased the car 2 years ago with approx 59,000km on the clock...". It's crucial to do your homework when buying a car, even moreso when that car is used example that has been shipped across international borders! We got hold of the Japanese Auction sheet for this car (per our 48 hour EXPRESS service) to check the dealer's claim of "65,562 genuine kilometres".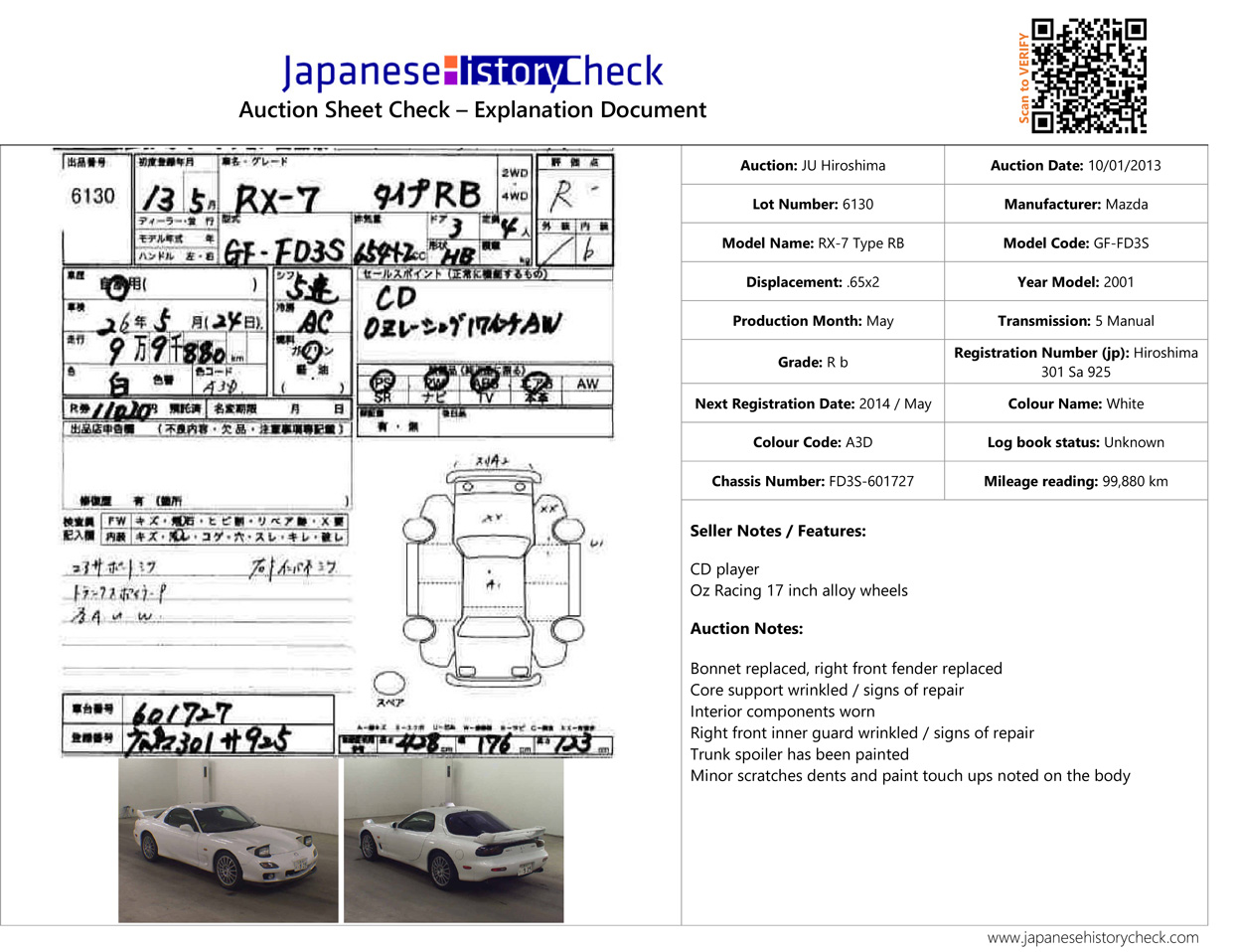 Per our auction sheet check service, you can clearly see that the vehicle had 99,880 kms on it's odometer when it went to auction at JU Hiroshima in January of 2013. As such we can say that the odometer was rewound by approximately 40,000 kms between when the car left Japan and when it was sold to it's first Australian owner. In addition to this, you can see that the car also has some repaired accident damage, the reason for the 'R' grading. In this case it's not very difficult to explain the discrepancy and figure out who the initial dealer was - use this link to search for the compliance workshop for this car. You may wish to report back with your findings in the comments for this article on our facebook page.
The sad part about this is example, is that the dealer advertising the car has purchased the car as a trade-in and is not reponsible for the odometer rewind, they even appear to have a good reputation. As a licensed dealer, they are however responsible for the vehicles they sell. By failing to properly do their homework in regard to this vehicle they are doing a disservice to their customers and risking that good reputation!
The dealer is correct in that good condition, low mileage examples of the RX-7 "will continue to increase in value" - if this car's history checked out that would probably be the case. If you're looking to invest in a Japanese imported car outside of Japan, don't pay top dollar for a poor example because someone else failed to do their homework, we can help you check the history.