Now truly an iconic classic, the JZA80 Supra has risen in value enormously over the past few years. For those whose pockets aren't quite so deep, the auto transmission models may carry a price tag that is closer to within reach. We found this example currently advertised for sale by a licensed motor dealer near Brisbane, Australia. Mileage is listed at under 100,000 kms so we decided to take a closer look.
There is a small detail contained within the advertisement that the uninitiated could easily miss. The final line in the dealers comments says "TRD 320 KPH Speedometer". Whenever you are considering a vehicle fitted with an aftermarket cluster, you need to ask a bunch of questions:
Where is the original cluster and what does it's odometer read?
Who performed the change, was the work done by an official party such as a manufacturer associated dealership?
What documentation exists regarding the change, specifically verifying the date the cluster was changed and the odometer reading on the original cluster?
We located the auction sheet for this vehicle and performed a full translation (per our service). The vehicle went to auction at USS Yokohama in March 2017, and the sheet goes some way to answering the above questions: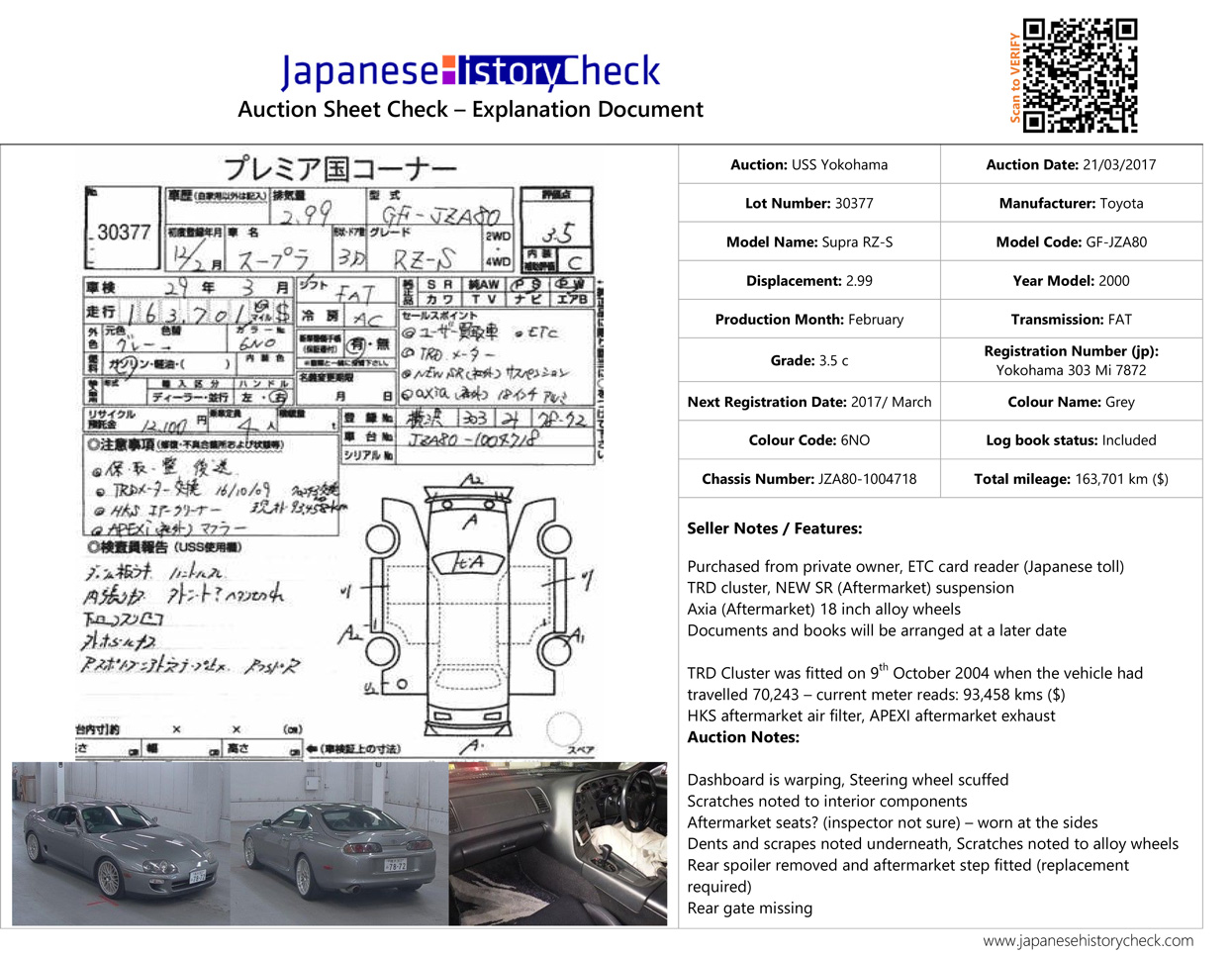 As you can see, the auction has clearly identified that the total mileage for this vehicle is 163,701 kms. Not even close to the 93,400kms as advertised by the dealer.
UPDATE: Only 24 hours after this article was posted, the dealer amended the advertisement to include the total mileage in the comments and dropped the advertised price by $3,000. Further evidence that getting a check can save you big-time.
Japanese Auction houses always ask questions when they see an aftermarket cluster and expect owners to be able to provide documentation regarding the change. In the case that they can verify the details, the total mileage is written on the auction sheet accompanied by a dollar sign. Notes regarding the change are written on the sheet to ensure no mis-understanding by prospective buyers.
Sadly, once these examples leave Japan, import dealers often intentionally mis-represent the mileage of these vehicles by neglecting to mention that the number on the odometer does not represent the total mileage travelled. This is done in the hope that an uninitiated buyer will hand over top dollar in the belief they are buying a low mileage example.
Of course, this doesn't mean there is anything wrong with the car itself! The issue that the dealer is sneakily ommitting key details about the vehicle in order to put himself at an unfair advantage in negotiating a price with his customer.
When buying a used import from Japan, it's even more crucial that you do your homework! Our services are here to help.