Used car dealers know that importing a car from Japan can be a complicated process. Due to the long timeframes, government regulations and foreign language issues, it's certainly not for everyone. As such, there are many myths and misconceptions associated with JDM imports. Dealerships do little to dispel these, and if anything, some dealers actively work to spread confusion amongst the consumer.
We take an in-depth look at a current example (January 2015), a 2007 Mitsubishi Delica advertised in the Australian state of Queensland, only 74,000 kms with "JAPANESE HISTORY AVAILABLE" according to the online Ad. This particular dealership is generally very shy about posting VIN numbers with their advertisements, however in this case the chassis number of the vehicle is visible in photos of the car, written in chalk on the windscreen.
CV5W-0105938
Of late, JHC amongst others have been unearthing more and more examples of dealers advertising high-mileage, accident grade vehicles as low mileage, immaculate examples. Consumer awareness of odometer rewinding among Japanese imports is growing and the dealerships are feeling the pinch. More and more often, they're being asked to justify the advertised mileage with proof.
To start with, lets take a look at what the Queensland based dealership will be offering as evidence when he purports "JAPANESE HISTORY AVAILABLE". The de-registration or export certificate. Two different documents, but both record identical details in regard to mileage. Only copies of the de-registration certificate are able to be sourced after export. We got hold of the de-registration certificate from MLIT, take a look below: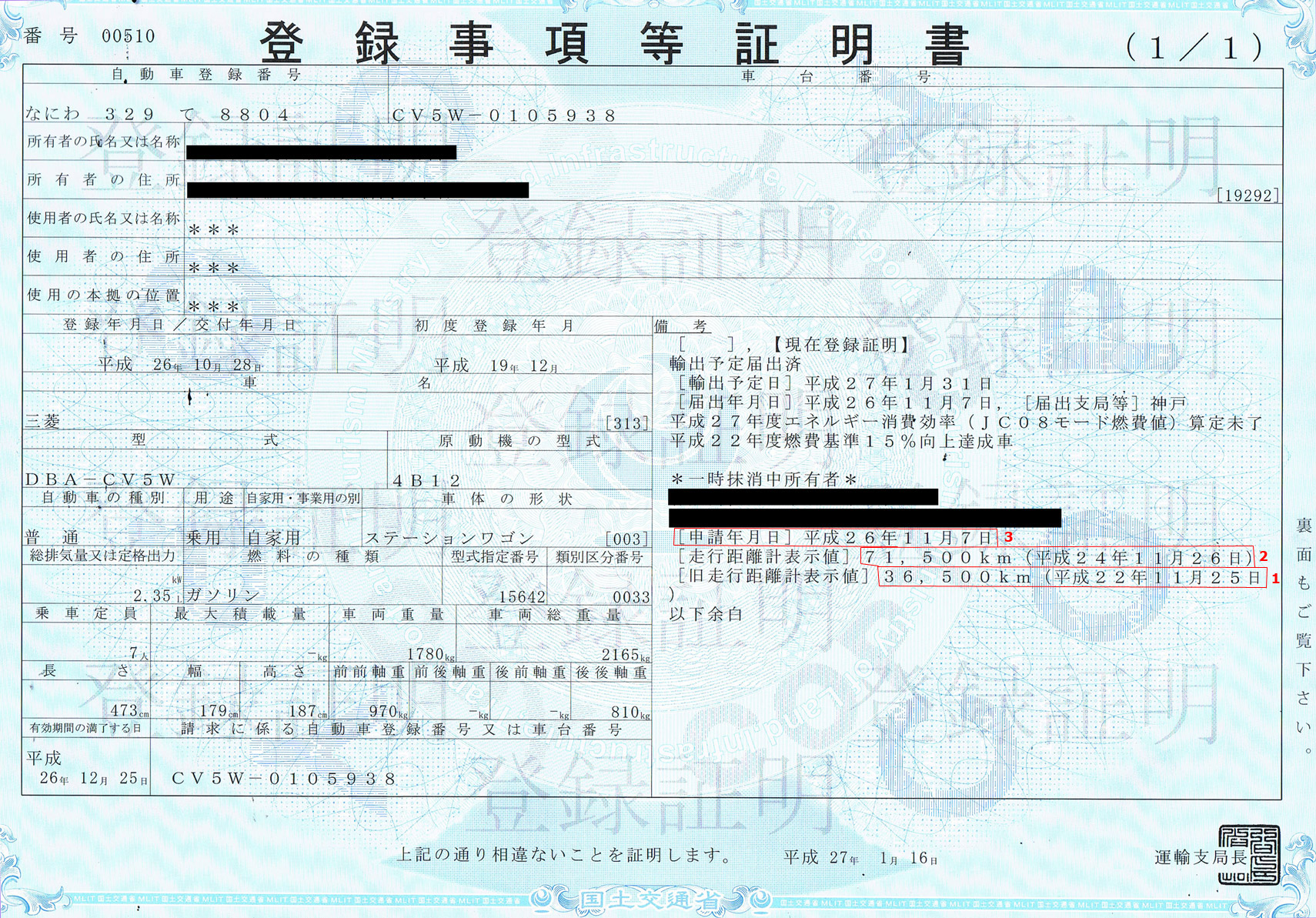 We've highlighted with red squares the areas of the document which addresses mileage. Here is a simple translation of the highlighted areas:
1) Car was registered in Japan, 25th November 2010 with 36,500 kms on the odometer
2) Car was registered in Japan, 26th November 2012 with 71,500 kms on the odometer
3) The date the registration was cancelled is 7th November 2014
Will a genuine de-registration or export certificate protect you from being a victim of mileage fraud? In many cases it certainly can - but only if you understand how to read it, and how this document works within the context of the Japanese registration and export process. The dealership fully expects that you will misinterpret the Japanese document provided and believe that it validates their advertised mileage.
In this case, the dealership is asking you to believe that after travelling 35,000 kms in the two years November 2010 through November 2012, the car only travelled 2,500 kms between November 2012 and when the registration was cancelled in November 2014. Really? Why would the owner suddenly stop driving the car? Sounds fishy, right?
A common misconception:"The de-registration or export certificate records the last mileage before the vehicle left Japan" - << INCORRECT
The de-registration or export certificate records mileage at the last times the car was registered for road use in Japan. Since Japanese car registration lasts for up to two years this means the last mileage reading could be as much as two years old. Some motorists travel a long way in 2 years!
The Japanese DO NOT have a system in place for recording mileage at the time of export. When reading a de-registration or export certificate, it is crucial that you pay special attention to the dates provided next to each mileage reading.
What we need now is an independent record of the mileage with a date much closer to export. This is where an auction sheet becomes extremely useful. The cheapest and easiest place for dealers to buy cars in Japan is at auction. It's uncommon for used car dealers to purchase their JDM imports anywhere else. Per our Comprehensive service, we got hold of the auction sheet for the Mitsubishi Delica in question: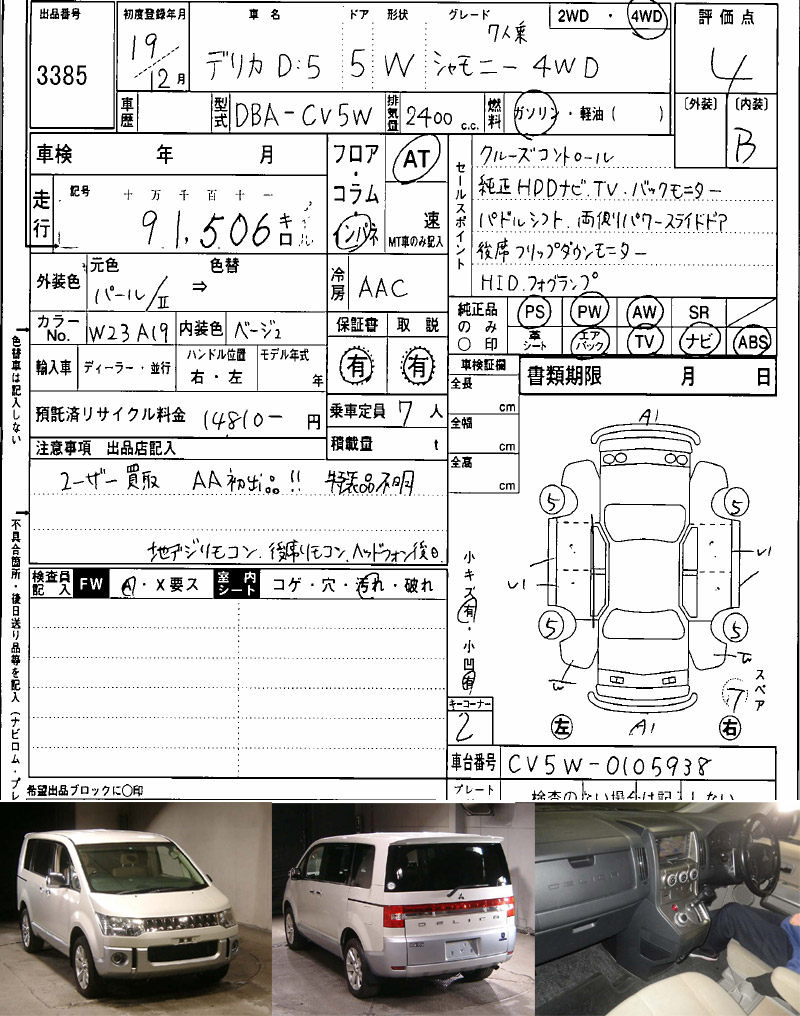 This vehicle sold at HAA Osaka auction on the 30th of October 2014 (MUCH closer to the time of export) with 91,506 kms on the odometer. As you can see the car has been wound back circa 20,000 kms to roughly match the last recorded registration mileage. A clever trick designed to defraud those unfamiliar with the process.
By openly offering the car with 'JAPANESE HISTORY AVAILABLE', the dealer is banking on the idea that his customer will not know understand the Japanese Export/Registration Certificate, will not question it, and will not be able to get hold of the auction sheet.
Circa 20,000 km's is no big deal I hear you say! What's all the fuss about odometers anyway?
We took a look at some similar Delica examples in recent auction results to determine how much the money the dealer might might make by rewinding the odometer by 20,000 kms rather than simply selling the car at the genuine mileage.
The average sold price for a grade 4, 2007 Mitsubishi D5 Delica with circa 74,000 kms is roughly 1,100,000 yen. The average sold price at circa 91,000 kms is roughly 900,000 yen. The dealer saves 200,000 yen on his buy price, meaning you end up paying at least $2,060 AUD ($1,700 USD) MORE than you should. In return for paying too much, you get lied to and are potentially at risk of missing critical servicing intervals on your vehicle.
If you're in the market for a used car ex-Japan - it's well worth doing your homework. Unfortunately there are plenty of dodgy types in the industry working the complicated process to their advantage.
When you independently source BOTH the de-registration certificate AND auction sheet, via our comprehensive service, we protect you from even the more advanced techniques dealers are using to maximize profits at your expense.