The Nissan Elgrand is a great value people mover. Like many of Japan's best cars, they were never officially made available for sale outside the local market, but later became available as a used grey import. You get great features like electric sliding doors, side-view and reversing monitors (around-view on later models), many are available with luxury feature like electric leather seats and flip-down entertainment systems.
We stumbled across a 'low mileage' example currently for sale in Adelaide, Southern Australia and decided to put this vehicle to the test of our EXPRESS auction sheet check service.
Let's take a look at the advertisement per the dealers website: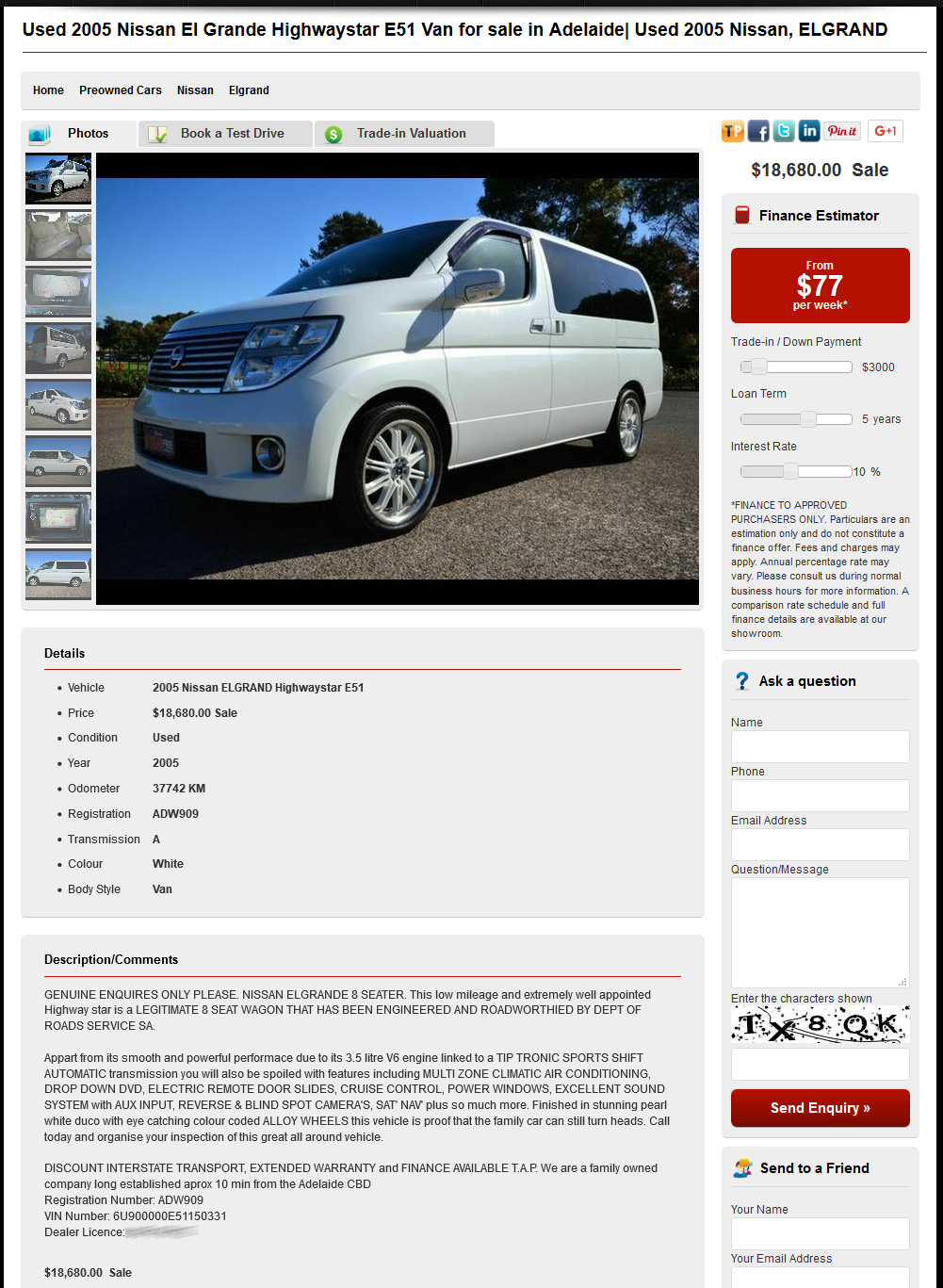 A 2006 model vehicle, with only 37,892 kms showing on the odometer? That's certainly low mileage, less than 3,800 kms per year on average! Whilst we are aware genuine very low mileage examples exist, they are very rare - you'd be right to be wary and question such claims.
When it comes to grey imports, the vast majority of vehicle pass through Japan's enormous network of vehicle auctions before being exported. Japanese auction is the cheapest and easiest way for importers in foreign nations to source stock from Japan - so much so that very rarely are other methods used.
By checking the auction sheet you get the last recorded mileage prior to the vehicle leaving the shores of Japan. Auctions also note crucial details regarding vehicle condition as well as accident history (if any). With our EXPRESS auction sheet service, we locate the auction sheet for you (plus photos if available) and provide a full english translation within 48 hours of payment. This serves as a great way to quickly check the vehicle you're looking to buy before it gets snapped up by someone else.
As a first step, we checked the compliance date of this vehicle using the Australia Government's RAWS Approved Vehicles search tool (available here). The vehicle was first complied for road use in Australia quite a while ago, on 31st October 2011 in Australia's eastern state of New South Wales. As such we can assume that this vehicle is not a fresh import and has already seen some use by an Australian owner. It is worth noting that New South Wales department of Fair Trading recently closed several dealerships specialising in used grey imports after uncovering rampant odometer tampering activity (see here).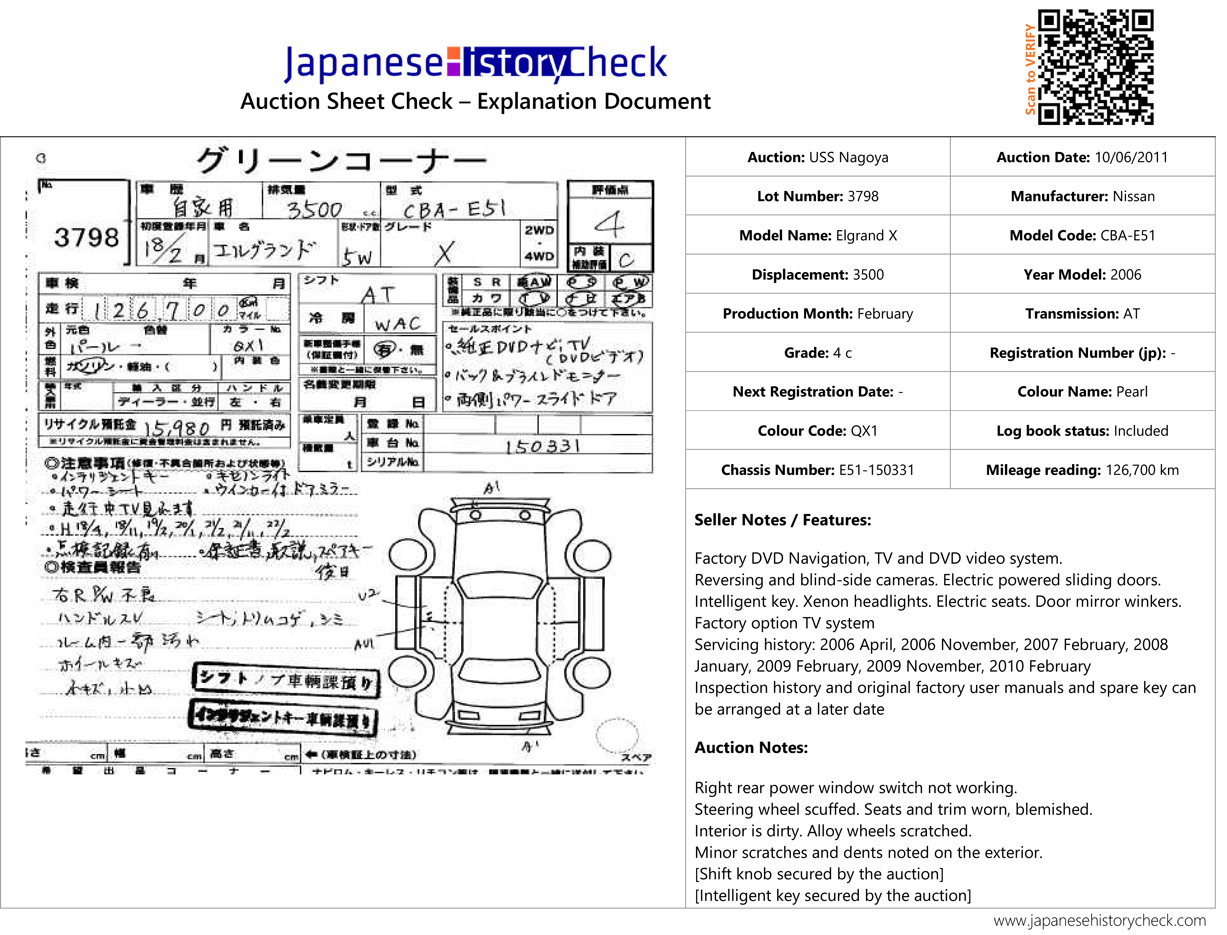 See above the auction sheet check as per our EXPRESS service, which shows that this vehicle was sold at auction in Japan, USS Nagoya in June of 2011 with 126,700 kms on the odometer. That means it's odometer has been rewound by at least 89,000 kms! Typically this rewind occurs when the vehicle is first imported from Japan, as evidenced by other examples on our website and facebook page. As such, we expect the dealership currently advertising the vehicle would not have been involved with the rewind, but has overlooked the fact that the odometer reading may not be genuine. Dealers trading in Australia are however responsible for the stock they sell, and it is a poor indictment on this dealership that they have failed to perform the appropriate checks in order to protect their customers. Why should you pay far more than the true market value for this vehicle because the dealership has failed to do the research?
Before you invest a significant chunk of money to purchase your JDM dream vehicle, it's worthwhile to ask yourself a few questions:
1) "LOW KM's" as a justification to pay more is only warranted if the claim can be verified. Can the dealer provide documented evidence to support this claim, and can those documents be independently verified?
2) Is the dealer telling you the truth about the car's history before it was exported from Japan? Do they even know it's history?
3) If you're buying from a private owner, how do you know the owner effectively researched the vehicle when they purchased it, and didn't get swindled by a dodgy dealer or importer? Why should you pay more because someone else failed to do their homework?
4) Given the majority of these documents are printed in the Japanese language, unless you know how to read these documents, it would be fair to say there is a decent possibility that you may misunderstand or misinterpret these documents don't you think?
4) How much may it cost you in additional servicing costs, and diminished resale value if you buy a vehicle with a tampered odometer?
5) Is it worth employing the services of an expert to independently verify the Japanese History of the vehicle you're looking to purchase?
Japanese History Check provides you with independent verification based on information sourced direct from Japanese auction houses and the Japanese government's transport bureau (MLIT). All of our checks come with QR code verification technology to ensure they can be independently verified and are protected from tampering. To learn more about our services, visit our services page.